Packages
All Western Riviera properties are within walking distance to the wooden boardwalks leading to various restaurants, shops and activities associated with our old west village. Grand Lake has a season for you with a variety of outdoor activities available year round. From boating, fishing and golfing to snowmobiling and snowshoeing – we have it all!
We are open 365 days a year, and our staff will work hard to make sure your stay is enjoyable and memorable.
Quick Links
Seasonal — Snowmobiling — Nordic Center — Fishing — Flowers — Hot Air Balloon — Massage — Free Glass of Wine — Create Your Own
Fall/Winter/Spring Package Deals
$240 Couples Getaway
(valid October – May, some holidays excluded)
$320 Family of Four Getaway at Lakeside Motel
(valid October – May, some holidays excluded)
STAY WITH US AND CREATE YOUR OWN FUN PLAY PACKAGE
Rocky Mountain Outfitters
900 Grand Avenue Grand Lake, CO 80447
970-798-8021
Grand Lake Metropolitan Recreation District
1415 County Road 48, Grand Lake, CO 80447
970-627-8008 or 800-551-8580
Grand Lake Golf Course
Grand Lake Nordic Center


Grand Adventures
304 W Portal Road, Grand Lake, CO
970-726-9247
Special Weekday Deal for Western Riviera Guests
Receive 10% off

Monday

–

Wednesday

when you book your snowmobile rental directly with Grand Adventures.
Grand Adventures offers two, four and eight-hour rentals in the Arapaho National Forest.
Perfect for the intermediate to advanced rider looking to experience Colorado's back country on a snowmobile.
Grand Lake is known as the Snowmobile Capital of Colorado because of the abundance of excellent snowmobile riding (for all abilities), and the ability to ride into town for lunch, dinner and lodging.
Leave your car behind, because all you will need is your snowmobile for days of freedom and enjoyment.

High performance machines are available for snowmobiling in Colorado. Check with us about time allowed to get to the forest boundary!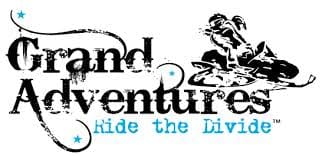 On The Trail
1447 County Road 491, Grand Lake, CO
970-627-0171
ATV Rentals
Mountain Bike Rentals
Snowmobile Rentals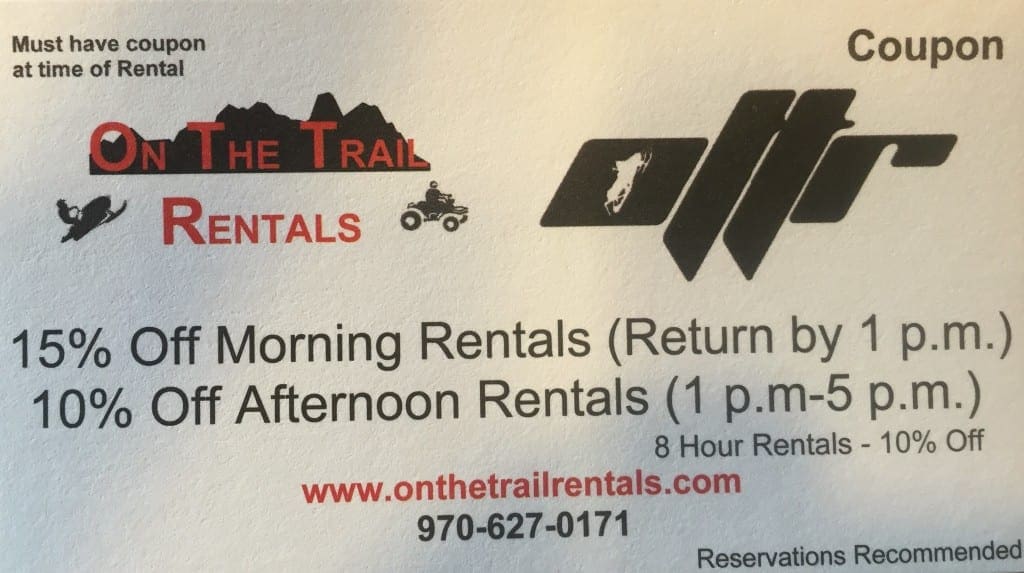 When you check-in at Western Riviera, pick up your discount coupon*
on snowmobile and ATV rentals with On The Trail Rentals!
*Discount coupon not valid on Mountain Bike Rentals
Rocky Mountain Repertory Theatre
800 Grand Avenue Grand Lake, CO 80447
970-627-5087 (Administrative Offices) or 970-627-3421 (Summer Box Office)
STAY WITH US AND CREATE YOUR OWN SERENITY PACKAGE (October-May)
Western Riviera Lakeside Lodging
Rates Starting at $90
419 Garfield Street Grand Lake, CO 80447
970-627-3580
One Hour Massage with Sage Massage Therapy or Sarah Chabot Massage Therapy for $80
Sage Acupuncture & Massage Therapy
311 Garfield Street, Grand Lake, CO 80447
970-531-1799Sarah Chabot Massage Therapy
828 Grand Avenue, Grand Lake, CO 80447
970-531-2721
Stay Fit at Grand Lake Nordic Center and Stillwater Yoga Studio
Grand Lake Metropolitan Recreation District
Golf Course, Nordic Center & Tubing Hill
1415 County Road 48, Grand Lake, CO
970-627-8008 or 800-551-8580
Stillwater Yoga Studio
Lisa Turan
10863 US Highway 34, Grand Lake, CO 80447
970-531-2274
Learn an Art Acrylic, Collage, Jewelry and Silver Metal Clay
Patty Alander
970-531-3439
Watercolor Donna Lyons Fine Art
970-627-8523
Wildlife Viewing & Photo Tips to Better Photography
John Williams of Grand Lake, CO 80447
303-501-2745