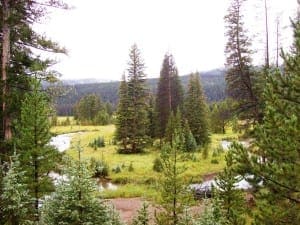 Rocky Mountain National Park is over 415 square miles of amazing mountain landscape.
Over 300 miles of trails, wild flowers, wildlife and fun.
At night, it seems the naked eye can see every star in the sky!
Seeing this beautiful park is an absolute must on your vacation list. Rocky Mountain National Park offers something for everyone!
Here's just a few things you can do at the park:
Hiking
Fishing
Bicycling
Picnicking
Snow Shoeing
Sledding
Skiing
Wildlife Viewing
Horseback Riding
And much more…
Grand Lake is Colorado's best kept secret with one of America's best ideas, Rocky Mountain National Park, as its backyard! Western Riviera offers lakeside motel rooms, cabins, condos and an event venue overlooking Colorado's largest natural lake surrounded by mountain vistas. Our Courtyard Cabins, just one block off the lake, offer the perfect setting for reunions and gatherings with kitchens, grills, picnic tables and a gazebo. All properties are in the heart of the Village, and with Grand Lake in our front yard and Rocky Mountain National Park in our backyard, we provide the perfect base from which to explore the many nearby year round outdoor activities. So you can stay with us and enjoy a lakeside room or cabin and be at the Park in no time!
Since we are open year round, you can stay with us any time and enjoy the different seasons at the Park. Just like us, the changing leaves in fall and many winter activities offered are waiting for you.
Call now to find out more about the events going on and to book your room!
Check out photos from events at Rocky Mountain National Park on our Facebook Page
https://www.facebook.com/media/set/?set=a.10153073958588047.1073741842.191755488046&type=3
Click to Visit the Rocky Mountain National Park Website