Wedding Testimonials
Read some of the raving reviews we have received from happy customers!
Hi there Chris. Well I was bummed I didn't get a chance to meet you but your crew that worked with us on Friday were great!!! The food was perfection. Everyone loved….Everthing! Our weather turned out great and the venue was wonderful.
Thank you so much for your emails, work behind the scenes, etc…it was a pleasure and I would reccommend you again and again and again. – Mary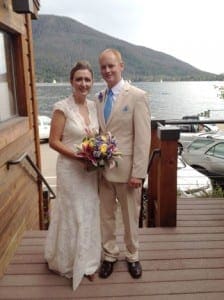 Thank you very much for the wonderful experience. The event space was perfect for our intimate wedding reception. Bobby and I were really pleased with the entire evening and truly enjoyed ourselves. … Thanks again! – Amanda and Bobby Foote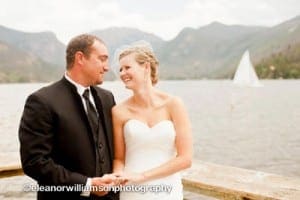 … Grand Lake was a natural choice for the setting of our wedding, and the location of the Lakeside Events Center, its was ideal space for our the ~80 guests, with the opportunity to still have a live band and dance floor inside, plus the patio is an AMAZING bonus, all in all we couldn't have asked for more effortless beauty of both the mountains and lake at this location. … Thanks! – Jessica & Chad
… The venue, Western Riviera Lakeside Event Center is beautiful. It is located right on Grand Lake and through the large picture windows you look right onto the lake while you are enjoying your meal. Breathtaking view! The event center is beautiful inside (wood floors, beautiful bar area and very nice bathrooms) and the large deck made a great place for our guests to drift while enjoying cocktail hour and then again after dessert to visit. It was a very relaxing and beautiful evening. I would highly recommend it to anyone wanting to "impress" your guests. … – Steve and Sue Spahr
…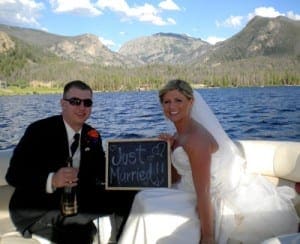 The Western Riviera Lakeside Event Center is a perfect venue for all to enjoy the beauty of Grand Lake in an indoor/outdoor reception that offers plenty of room for dancing, dining, and star gazing. … You were sensitive to things that we felt were important and helped us work within our budget. … We very much enjoyed arriving to the wedding reception by boat and have all of our friends and family cheer for us on the big deck as we made our way up the stairs. If we could do it all again we wouldn't change a thing! … All of our wedding guests loved our destination mountain wedding and the staff at the Western Riviera made lodging easy for people to stay a few days and enjoy all there is to do in Grand Lake.  … – Graham and Lauren Wincott
… And the whole event center was gorgeous! The beautiful wood floors and wood ceiling beams provided a feeling of warmth, and the view of Grand Lake was breathtaking! … Leslie (Bride)
THANK YOU for the wonderful job hosting our wedding reception on August 6, 2011! It was everything we ever dreamed of and more! All of our guests raved that our venue was fantastic! We very much enjoyed arriving to our wedding reception by boat and coming up the stairs to all our guests cheering us on from the big deck over-looking the lake. … Anyone considering having a mountain wedding near the lake: this is the place to have your reception! We made our wedding day into a wedding weekend retreat and many of our guests stayed 3-5 nights so everyone could enjoy all that Grand Lake has to offer. I can't wait to come back to this charming and stunningly beautiful place for many years to come! 🙂 – Lauren Rae Wincott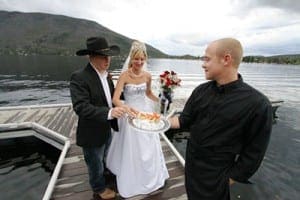 We wanted to let you know how wonderful everything was for our daughter's August 14th wedding reception at the Western Riviera Lakeside Events Center. … It was an awesome venue (who could not like the view) for a joyous occasion. We had a great time and thank you very much for all you did to make our evening special. – Carol & John Wolff
… The venue was beautiful. Inside there was a bar and lots of space for tables, buffet etc. and outside was a nice, large patio overlooking the lake. I would say this venue is good for a small group like ours (20 people) up to a large group of about 150. The entire place was well kept, contemporary and very clean. The town of Grand Lake is beautiful, friendly and fun. We rented a projector from the Library down the street and played a nice slideshow during our celebration as well. … Sincerely, Abby Bankson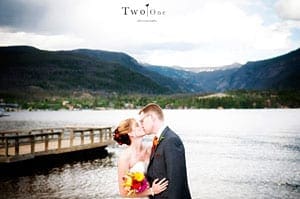 … The Lakeside Event Center has great views and is located in the middle of Grand Lake. … – Nadin & Matt Hare

We chose the Western Riviera Lakeside Events Center for our rehearsal dinner and ceremony. We chose this location for our ceremony because of the fabulous view of Rocky Mountain National Park and Grand Lake. It just made sense to have our rehearsal dinner in the same location, so the wedding party would be familiar with the location before the big day. …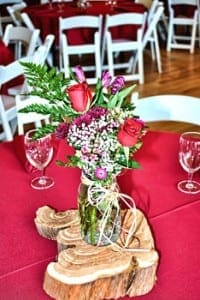 … The Western Riviera Lakeside Events Center had everything we desired in a wedding venue; easy to locate, quiet small town atmosphere (that can only be found in a mountain town like Grand Lake), lodging near by and a view. It was important to us that we could hold our entire event there, wedding ceremony and reception.
We wanted our guests to experience the Colorado Rockies that we know and love, Grand Lake was an excellent choice. …
We danced the night away at the Events Center. When our guests were through with the evening their motel rooms and cabins were only a short walk.
Our families and friends had a wonderful time, it was a great success! Thank you for a wonderful wedding day.
Sincerely,
Olivia and Brian Clark
My friends and I had a wonderful time at your restaurant several weeks ago and really enjoyed the food. We will definitely be back!
Kind Regards,
Wendy Wildt
Our family has come to know and appreciate the natural beauty of Grand Lake over the last ten years.
Our experiences have now been greatly enhanced with the opening of the Western Riviera Lakeside Events Center where we and dozens of guests thoroughly enjoyed a wedding reception there yesterday.
This venue was the perfect place to enjoy the spectacular scenery and lakeside activities …
Thank you Mike and Jackie Tompkins … for growing our appreciation of Grand Lake to unexpectedly higher levels. The Western Riviera Lakeside Events Center is a perfect place to host a special for any occasion.
Best Regards,
Robert C. "Bob" Balink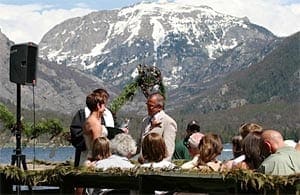 My husband and I wanted an intimate setting to share our vows with our family and friends. Grand Lake was the perfect place. The staff at the Western Riviera was knowledgeable and easy to work with; they helped us create a wonderful weekend for all.
Our guests were transported across the picture perfect lake by boat to Point Park for our wedding ceremony where we said our vows looking out at Mt. Baldy.
Everyone enjoyed a boat ride back across the lake to the beautiful event center…
while we were whisked away in our own private boat to toast our new life together.
Then we rejoined our guests as they greeted us on the deck of the event center. What a delight to enjoy the deck, the view and the delicious food. There was plenty of room for dancing and celebrating. It was truly a fairytale come true!