We offer wheelchair accessible rooms at our Courtyard Cabins where you will find one large cabin (Elk Run) with an accessible bathroom with a tub and grab bars, and four medium cabins (Fox Den, Hummingbird Haven, Kinnickkinnick and Lupine) with accessible bathrooms with roll-in showers.
If you have any questions at all about handicap accessibility at the Western Riviera or anywhere in Grand Lake, feel free to call us at 970-627-3580.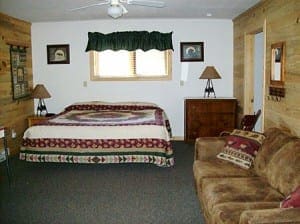 Medium One Room Cabin with Wheel-In Shower: Our one room medium cabins have the kitchen, eating area, living area with foldout coach, queen bed and TV in one room. These rooms are wheelchair accessible including a roll-in shower with his and her shower heads. These cabins accommodate 1-4 people.