Your Grand Lake Adventure Awaits!
Western Riviera Lakeside Lodging & Events
The Only Lakeside Hotel, Cabins & Events Venue in Grand Lake, Colorado
It's Time to Have the Vacation You Deserve!
Our commitment to you is to ensure your vacation is the one you have always dreamed of.
How often have you returned from a vacation and felt like you needed a vacation from the vacation?
A true vacation should be about YOU finally getting to RELAX.
Just Imagine:
Staying in a hotel room or cabin right on Colorado's largest natural lake in beautiful Grand Lake
Being surrounded by the beauty of nature and mountain vistas
Fishing and boating right outside your front door
Nature trails to walk and snow covered mountains to snowmobile or ski on in the winter
Exploring Rocky Mountain National Park just minutes away
Being able to walk everywhere in town right from your room
At Western Riviera, you get all that and more!
Enjoy FREE Coffee, Tea, Hot Cocoa & Ice in the Motel Coffee Room, and Cable & WiFi in all properties.
Featured In
Hotel Impossible fan? Love TripAdvisor? See why we have grabbed the attention of so many happy guests!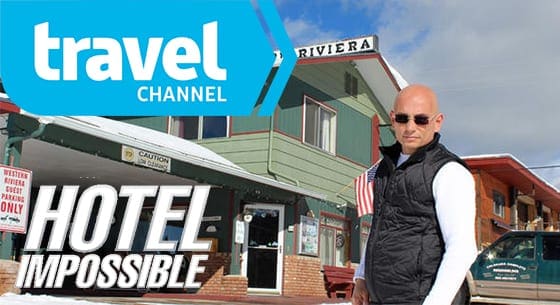 We were recently featured in an episode of Hotel Impossible on the Travel Channel with Anthony Melchiorri. It was an amazing time for us and the town of Grand Lake! Click to see more about the episode, including photos and video!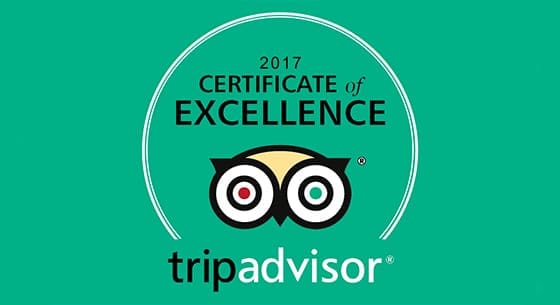 You are our #1 priority. We aim to make sure that your stay is an absolute enjoyment. We are honored to have won TripAdvisor's Certificate of Excellence 6 years in a row! Click here to see more of our awards and read some reviews.
"It's the most beautiful place I've ever been." – Anthony Melchiorri, Travel Channel
Cabins and Rooms
The majority of our rooms and cabins are right on the lake, giving you a spectacular view!
Whether you are in a room or a cabin, the beauty of Grand Lake will be right in front of you.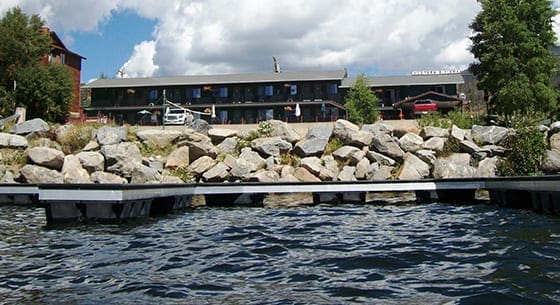 The view from any of our rooms in the Lakeside Motel will provide an inspiring vista of lake, mountains, and awe.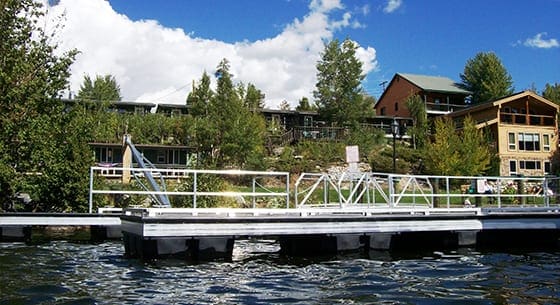 The Lakeside Cabins offer a spectacular view of Grand Lake and mountains, and just steps away from the waterfront.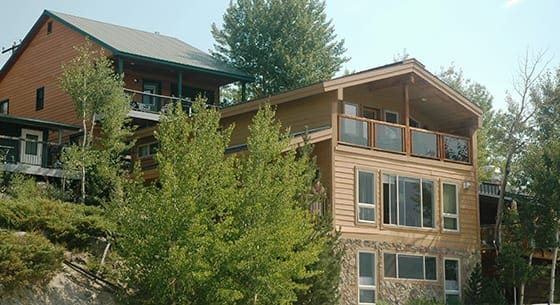 The Tree House provides an uptop view of the lake and mountains. The kitchen, living and dining area, and private balcony all face Grand Lake with spectacular views surrounding.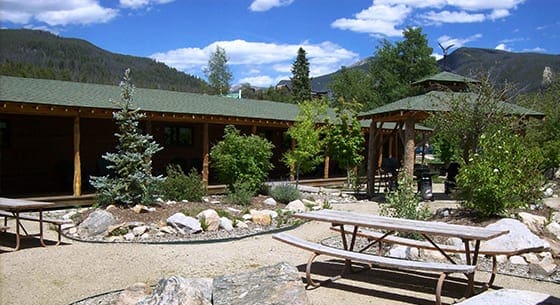 The Courtyard Cabins are located in the heart of the Village of Grand Lake, only a block and a half from the lake.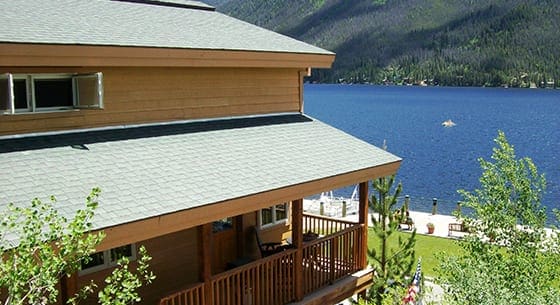 Need a lot of space? The Lake House is right on the lake, with a private balcony overlooking it, and will sleep up to 8.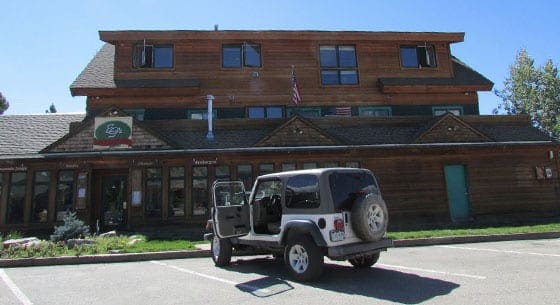 This luxury penthouse includes 3 bedrooms with a living area, fireplace and bathroom in each of the 3 bedrooms, and a common kitchen area in the middle.
Handicap Accessible
We have handicap accessible rooms for our adventuring friends on wheels!
If you have any questions, give us a call and we will assist in anyway to ensure you are accommodated.
Wildlife
The wildlife surrounding Western Riviera is absolutely stunning — gorgeous birds, moose, fox, eagles, elk, and much more.
There's no way we can do it justice in words. You have to see the pictures to believe it.
See More
Seasons
We are open all year long!
Every season has something remarkable about it here in Grand Lake.
Take a look at our paradise throughout the 4 seasons.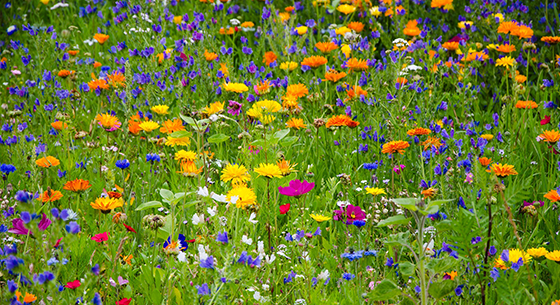 The flowers are blooming and the birds are singing! Spring is the season of renewal and awakening; when you can experience the first sightings of new offspring like moose, deer, and black bears, and welcome the hummingbirds back to their nesting grounds. Come see the wonder and excitement of spring time!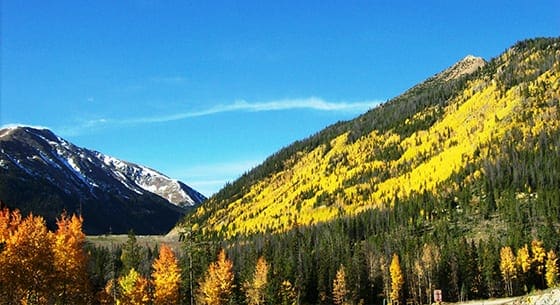 Fall is amazing in colors, sights and sounds. An absolute beauty to behold. The quaking of the bright golden Aspen leaves against the crisp blue Colorado sky and the bugling of the elk truly is spectacular! Hikers, kayakers, canoers, bikers, golfers and fly-fishers enjoy the beauty of the season, and our Fall Festival before the snow begins to fly.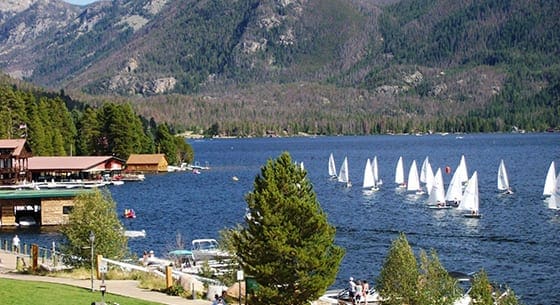 Summer is our high season, when our lake and town are at its busiest – the Rocky Mountain Repertory Theatre is in full swing, fireworks explode over the lake on the 4th of July, antique wooden boats tie up to the docks, Bingo is being played in the park, and the beach area is filled with families, friends, and fun!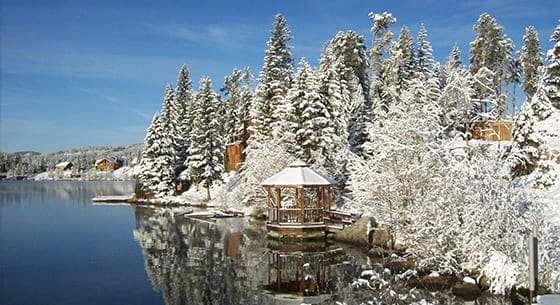 As the snow begins to fall, Grand Lake becomes a winter wonderland. The wildlife heads for lower elevations, the frozen lakes welcome back the ice fishers, and the skating rink and trails are groomed for skaters, snowshoers, cross-country skiers and snowmobilers. Snow covered trees, snowmobiling, skiing, ice fishing. Need we say more?
Weddings
It is your special day, let us make it even more special with a lakeside wedding!
We are the only Lakeside wedding venue that can handle your wedding, reception and lodging.
A beautiful wedding right here in the mountains, on the lakeside, with a backdrop you have to see to believe!
See More
View From Above