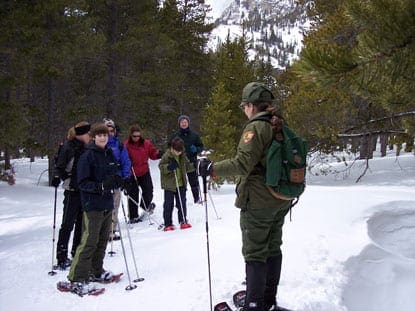 Be sure to visit picturesque Rocky Mountain National Park in the winter and explore the beauty of nature in solitude.  Listen to Ranger Cynthia as she talks about planning for your visit, winter wildlife, driving information, stunning views, snowshoeing, cross-country skiing and safety tips.
Snowshoeing and cross-country skiing are fun ways to experience the backcountry of Rocky during the winter months. Join a Park Ranger this winter on a ranger-led snowshoe ecology walk for beginner and intermediate-level snowshoers and cross-country skiers on the west side of the park. Reservations are required and there is no additional fee beyond the regular park entrance fee. Snowshoeing is easy to learn and opens up a new way to see the beauty of nature during its quietest season.
For beginners, the snowshoe program is a two-hour exploration of the natural world of the subalpine forest. No previous snowshoe experience is required. The beginner snowshoe tour on the west side is held on Saturdays at 1:00 p.m. through the first Saturday in March. For more experienced snowshoers, a two-hour snowshoe walk is offered on the west side of the park on Sundays at 1:00 p.m. through the first Sunday in March. Previous snowshoeing experience is recommended because of the elevation gain, mileage, pace and terrain covered in this program.
Ranger-led cross-country ski tours are offered on the west side of the park on Saturdays at 9:30 a.m. through January. Participants ski a snow-draped landscape and learn about the Kawuneeche Valley. All snowshoe walks and ski tours require reservations. Reservations can be made in advance, seven days or less prior to the desired program. Participants must furnish their own equipment, including poles with baskets, and be at least 8 years old. To make reservations for west side snowshoe walks and ski tours, call the Kawuneeche Visitor Center at (970) 627-3471. Please call between 8:00 a.m. and 4:00 p.m. daily. http://rockymountainhikingtrails.blogspot.com/2015/01/explore-rocky-mountain-this-winter.html